The Abyssal Plague was a worlds spanning event created by Wizards of the Coast. The novels come from the Points of Light, Forgotten Realms, and Dark Sun campaign settings. Starting with a five-part novella (The Gates of Madness). The insidious plague also reaches into roleplaying products such as Monster Vault: Threats to the Nentir Vale and the adventures of the D&D Encounters event.
"
In a dark dimension beyond the known planes of existence, the Chained God thirsts for freedom. Infusing his will into the residue of a long-dead universe—scarlet liquid shot through with veins of silver and flecks of gold—he sends this liquid crystal between worlds to prepare his way. But his will is not the only force that drives the Voidharrow.

Imbued with the power of the Voidharrow, the dragon Vestapalk creates a horde of demonic minions to spread the Abyssal Plague across the Nentir Vale. But the threat is not contained within a single world: Faerûn and Athas must contend with their own outbreaks of tainted demons and virulent plague. Will the Voidharrow consume the multiverse? Will the Chained God break free? Or will the heroes of the age put a stop to the Abyssal Plague?

"
Timeline of the event
Edit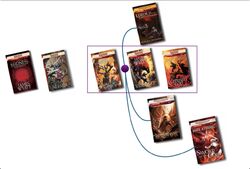 Ad blocker interference detected!
Wikia is a free-to-use site that makes money from advertising. We have a modified experience for viewers using ad blockers

Wikia is not accessible if you've made further modifications. Remove the custom ad blocker rule(s) and the page will load as expected.